Let the wisdom of your body be your guide to relating
Our online training, ReSource, is a unique somatic empowerment adventure designed to help you access your body's own deep intelligence and bring that through into every relationship in your life
Increase your embodied awareness, deepen your sense of presence and safety, and expand your relational capacity...
The next live run of ReSource starts October 24th
Join hundreds of others in this beautiful tribal love affair for six weeks of community-enhanced somatic empowerment! Your future self will thank you forever!
€299 Earlybird until October 1st, then €349


Get Your Earlybird ticket Today
The quality of our life is largely determined by the quality of our relationships. And the quality of our relationships with others is largely determined by the quality of our relationship with our own embodied self.


ReSource is an opportunity to focus on improving that core relationship – and through it every relationship in your life.
EDUCATION
Get a comprehensive foundation in the somatic, emotional, and relational education that is Embodied Intimacy.
EXPERIENCE
Deepen your experience of embodiment, connection, and intimacy, through self- and relational- attunement practices.
TRANSFORMATION
Reclaim your nervous system as an intelligent instrument that works as an inner barometer for your truth.
"Best thing that ever happened to me… by far the best online course I have taken."
"Truly life-changing... helped me to find a deeper level of trusting myself in connection."
"Brilliant! Allowed me to map my inner landscape in a way I've never been able to before."
Are you carrying relational trauma that just keeps tripping you up and won't let you create the relationships you long for?
You're not alone.
We all carry personal and collective trauma.
We all struggle to balance the desire for deep connection with the very real challenge of living with a nervous system that's easily triggered and which often undermines our most important relationships, our happiness and wellbeing, and even our financial success.
We all find it hard to let ourselves love and be loved in a way that fits the unique shape of our hearts.
But there are ways to integrate our traumas, to skilfully regulate our nervous system so that we can show up more consistently in our lives, and to create enough of a sense of safety to speak the truth of our heart in connection.
ReSource is a distillation of over a decade of Embodied Intimacy workshops and trainings sharing science-backed teachings and techniques that can help us to shift the old patterns of relating which no longer serve us and move through our blocks to authentic intimacy.
ReSource is for you if you are longing to move beyond the anxiety, shame, insecurity and frustration that can so often surround intimacy and relating, and are ready to experience more ease and joy in connection.
"This has fully allowed me to touch into a depth of intimacy with myself and with others that I really wasn't expecting. It's a surprising, awesome, life-changing program. I only wish I'd taken it sooner..."
"I love love love this training! I am learning so much and the things I'm learning are serious game-changers for me. The content is really amazing. Add to that Rachel & Buster's authenticity and rawness - I am in love."
"...thorough, practical and well supported... and did what it says on the tin: gave me resources to deal with trauma responses, challenges in relating with myself and other people, and tools that I can use everyday..."
How does ReSource work?
ReSource has three main elements that work together to help you reconnect with your body's intelligence to improve the way you relate.
ELEMENT 1
Daily Teachings & Practices
Over six weeks, you'll journey through our essential education in embodiment, relating and intimacy, developing the skills you need to master the art of connection – firstly with yourself, and then with others. Our framework will give you a theoretical and experiential foundation on which to build the more positive relationships you long for in your life. 20-30 minutes of content and exercises per day for six weeks. Intensive, yes, and deeply transformative.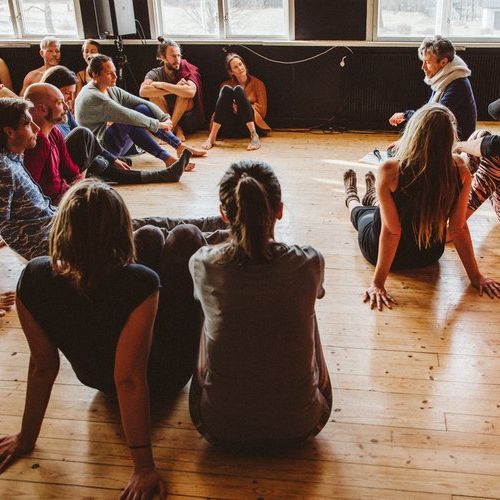 ELEMENT 2
Live Practice Sessions
Learn to apply our tools and techniques and consolidate your personal practice with weekly online group coaching sessions led by Embodied Intimacy trained somatic empowerment facilitators, and monthly live sessions with Embodied Intimacy founders Buster and Rachel. As part of ReSource you'll gain lifetime access to these live sessions so you can continue to deepen your practice long after the end of the main six weeks of training.
ELEMENT 3
ReSource Tribe
The depth of healing and empowerment that is possible through our somatic education is amplified when practiced in community. So, as part of ReSource you'll get lifetime access to our online tribe of Embodied Intimacy practitioners, a heart-centred community committed to applying the teachings and tools we share. The online community space is a supportive and transformative space to collaborate with others to deepen your somatic resourcing journey.
In this online format, with these three mutually supporting elements, our essential teachings and the transformations they make possible are available to you in a way that's accessible from your own safe space and for a fraction of the cost of our in-person trainings.
Join ReSource today
What results should I expect from ReSource?
The tools, techniques and understandings you'll find inside ReSource will help you in so many ways, including:
Learn to really love yourself as you are
The essential first step: befriending yourself, flaws and all, and embracing the parts of yourself you've been at war with: All of You Is Welcome Here.
Reclaim the deep wisdom of your body
Move from submission to empowerment by reinstating your active defences. The empowered path back from Learned Helplessness, shame and worthlessness.
Build a powerful sense of somatic safety
Shift the state of your biology and learn to re-set your operating system with "bottom-up" resources to increase your sense of safety in any situation.
Anchor an awareness of solidarity and support
Relational traumas were not laid down in isolation. We need others in order to heal, practice and reinforce new behaviours.
Move from fear to trust in connection
When animals are safe, they play. By developing somatic safety from the bottom up, we learn to trust - both ourselves and others.
Rediscover vulnerability, innocence and wildness
Become more of who you truly are as you effortlessly begin expressing your full potential. Once the brakes come off - there's no stopping you.
Let Buster tell you more about what ReSource can do for you...
Check out this 3-minute video outlining the intention behind the training and the results it can give – a great introduction to what it's all about.
Even more of the ways this training can help you...
♡ Develop confidence in recognising common triggers - before they actually happen...
♡ Gain tools to regulate your nervous system in difficult situations...
♡ Understand a simple psychological theory of trauma and why the body is so important on the path to relational healing...
♡ Develop an accessible and practical understanding of what happens in the brain during a traumatic (re)activation...
♡ Identify when others are triggered and what to do with it...
♡ Develop skills to create a somatically safe field for your relationship, client, or group work to deepen into...
♡ Actualise more of your gifts, capacities and purpose...
♡ Understand your unique style of coping with relational trauma...
♡ Stop beating your head against the wall with top-down approaches that don't work...
♡ Learn to rebuild a secure attachment style...
♡ Connect with a conscious, supportive, heart-centred tribe that accepts you exactly as you are...
♡ Escape the horrible catch 22 of relational trauma - that you can only heal it in relationship, but how the hell do you do that whilst keeping yourself safe from further wounding?
♡ Get beneath the mental stories and mind-based loops to where talk therapy can't reach...
♡ Get a handle on your reactivity and create space around your habitual responses...
♡ Turn the tables on your Inner Critic and develop a quiet inner confidence around your own unique beauty...
♡ Discover why it's essential to bring more love and presence to everything when connecting with human beings in this vulnerable time in human history...
"I am now much more able to regulate my nervous system, to be aware of my triggers and much more. I feel a lot more at peace within myself and I'm much more in my joy and playfulness!"
"Thank you for all the wonderful and challenging things I am experiencing… this is really a juicy field for growth."
"This is amazing! I have recommended it to so many friends now, because it is such a good handbook for life!"
"I've been curious about your workshops for a while but never dared to join one. This online format made your work more accessible... it felt more safe to peek into it from the safety of my home. Now I'm super excited to see you soon in person!"
"My biggest take away from this training is the growing and deepening awareness and appreciation of my body as the SAFE HOME I have always always longed for. Not the arms of another, not a geographical place on Earth, not a distant planet, but first and foremost - my.own.body. The greatest of gifts."
"I will say that the whole course has been beautifully constructed and it works! Who'd have thought online intimacy could be a thing. Sounds paradoxical but you've made it work."
"I've been enjoying the material and it's completely spot-on for me. It's fascinating and resonating and exhilarating."
"Fascinating, really useful, educational. You've condensed into a really manageable format stuff I've been meaning to research for years: trauma, nervous system, relating, attachment. AWESOME."
All of You Is Welcome Here
A Word About Our Style: We Keep It REAL!
Please be warned: while we really do know our stuff when it comes to science-backed, trauma-informed somatic empowerment theory and practice, we are, first and foremost, wonderfully flawed human beings just like you, struggling every day with the same kind of personal and relational challenges as you are.
Acknowledging this, and keeping things as real as possible, is at the heart of our approach, central to the transmission we bring to all our trainings. Nothing in our work is about trying to stand on tiptoes above anyone else or bypass the inherent fragility of being a human spiritual animal alive here in the mystery of our 21st century post-pandemic, pre-climate-chaos cultural landscape.
All we really know is that working directly with our basic somatic needs offers a way to create enough relative safety to show up and reveal ourselves authentically, to take risks in vulnerability, and let others see us as we actually are. This is the essence of true intimacy: discovering, together, that we are loveable just as we are right now, with all our strange knots and distortions, unexpected gifts and quiet joys.
This approach is especially well demonstrated in Buster's ability to reveal himself transparently, no matter how awkward and messy it might look. As you'll discover inside the training, ReSource isn't a polished, top-down dispensing of cool information. It's warm, vulnerable, vital, at times deeply moving, at times hilarious, and at other times excruciatingly uncomfortable – just like this precious life we all share in.
"All of you is welcome here" isn't just something we say!
It's our way of being.
Join ReSource today
What People Are Saying
Watch a selection of heart-felt shares and harvests from some of the members of our ReSource community, to get a sense of how deeply transformative the ReSource material and container really are.
A deeper look into the ReSource curriculum
A week-by-week peek at the contents of your somatic empowerment adventure.
Week 1 – Safe In The Body
In this first week we'll begin to explore what a somatic sense of safety is, how to create it, and how important it is for our being able to expand and thrive in connection with others.
Some week 1 topics and practices:
• What Somatic Safety is and why it matters
• Somatic Empowerment 101
• Exploring your current relationship with your body
• Introducing the Window of Tolerance
• The power of memories on our relationship with the body
• The mind/body disjunct and the path of integration
• Safety and the Triune Brain
Week 2 – Fear In the Body
In week 2 we turn to befriend our fear, developing a relationship with it so that we can learn not to let it rule us – then we can begin to play with it as a portal into intimacy.
Some week 2 topics and practices:
• Procedural learning and how to transcend autopilot
• Exploring your Window of Tolerance
• Regulating Hyperarousal
• Body-memory and the importance of the timestamp
• Regulating Hypoarousal
• Neuroception and the 5 different ways to perceive the present moment
• Tracking arousal states
• Coming home to love
Week 3 – Resource In the Body
In week three you'll experience a tipping point where all the theory and practice starts to land in your body as a resource to regulate the biological state of fear into a somatic sense of safety.
Some week 3 topics and practices:
• The body as resource
• Your internal somatic resources
• External somatic resources
• Procedural learning (continued)
• Transforming procedural memory
• Developing new somatic responses
• Mapping your instinctual responses
• Reinstating active defenses
• Acts of triumph
Week 4 – Relating With The Body In Mind
This week, we're applying the concepts and practices we've been learning to the place where the rubber hits the road: our most intimate relationships.
Some week 4 topics and practices:
• Introducing the spiritual path of relating
• Activating positive relational experiences
• Integrating negative relational experiences
• The attachment cycle: attunement, rupture & repair
• Attachment in difficult relationships
• Attachment in positive relationships
• How to repair in conscious relating
• Reparenting yourself
• Consciously-learned secure attachment
Week 5 – Solution With The Body In Mind
This week we want to put everything together into a formula that you can apply to everything: a fully integrated, bottom-up behavioural-modification programme.
Some week 5 topics and practices:
• Waking up vs growing up
• Survival resources vs creative resources
• Understanding the trigger spiral
• Understanding the resource spiral
• Embodying a creative resonse
• Upgrading your resources
• Relational trigger spirals
• Relational resource spirals
Week 6 – Stepping Into Life Through The Body
In this final week we'll be bringing all the threads together to allow us to access the wisdom of the body as we move through life.
Some week 6 topics and practices:
• Using the wisdom of the body
• The choice point
• Practicing somatic safety
• Integrating the intelligence of the instincts
• Updating negative beliefs
• Early attachment and orienting
• Tracking your orienting habits
• Creating new patterns of behaviour

One thing is clear:
We can't do it alone
How on earth can this work online?
What if I don't know anyone else near me doing this kind of work?
What do you mean by 'trauma'?
What if I get overwhelmed by the amount of training material?
What if I'm just too broken to heal my relational trauma?
I've tried everything but nothing's worked – how is this different?
What if I really want to do this but just can't afford it?
Is there any point in starting this training if I doubt I'll finish it?
This sounds great, but what if I'm just too busy?
What if I don't feel safe engaging with my trauma material at home alone and unsupported?
I'm not sure I can bear yet another f**king Zoom thing! Any advice?
Can I get a refund if it doesn't work for me?
Buster Rådvik MA is the founder of Embodied Intimacy, the Embodied Intimacy Training and a Certified Sensorimotor Psychotherapist in private practice. With an MA in Psychology, Couples and Family Therapy, he specializes in individual, couple and group therapy for trauma and attachment related issues around intimacy, sex and relationship. Buster's dharma is being by example and leading with integrity. He has a reputation for his candid emotional awareness and ability to reveal himself, transparently, no matter how awkward and messy. His warm, open style gives permission for people to come home to their humanity.
Rachel Rickards is a group facilitator extraordinaire, event producer and intimacy catalyst. In 2014 she co-founded Embodied Intimacy, a thriving community of people interested in building relational intelligence through hands-on relating and experience-based education. Rachel also brings a passion for alternative relationships by helping people find their truth in the way they want to love and be loved. She has been featured on ABC's Nightline, as well as on a cutting edge, hit "docu-soap" on Showtime, and in 2018 she was selected to be part of Tamera's Global Love School. Rachel absolutely loves creating group heart fields through synchronized nervous system regulation and activation.
The Embodied Intimacy tribe is a courageous, exploratory, heart-centred community of thousands committed to exploring the intersection of embodiment, intimacy, and human connection, believing that the depth of the work we do is amplified when it is done in community.
This global tribe is made up of individuals from diverse backgrounds but all sharing a passion for deepening our connection to ourselves and others and exploring the nature of human connection and intimacy through somatic practices.
The tribe is a supportive and transformative space to practice, explore vulnerabilities, desires, and boundaries in a safe and non-judgmental community.
Join ReSource today
What does it take to come fully alive in your body, meet the world in the magic of authentic connection, ride the wild edge of intimacy with just enough safety to make the impossible possible!?
This is the life-changing gift of somatic empowerment... are you ready to embrace it? We think you are. What else are you here to do?
Join ReSource Today